Hotronix® Air Fusion™ Heat Press Table-top Version
The Hotronix Air Fusion Heat Press is the only auto-open, auto-swing heat press of its kind, with patented, innovative features designed to increase production volume and decrease operator fatigue
The IQ-Board of the Fusion series offers many new features besides a larger display and improved sensitivity when adjusting the press.
Intelligent troubleshooting and self-diagnosis of the press
Ability to generate printing and production statistics to check productivity
240 V, 15 Amp, 3500 W
40cm x 50cm
Easy to install interchangeable platens
Temperature adjustable up to 220C° (430F°)
Automatic pressure adjustment, Automatic Timer.
Application
Prepare to Print
To begin the heat application, start by verifying that you have the proper settings on the Home Screen.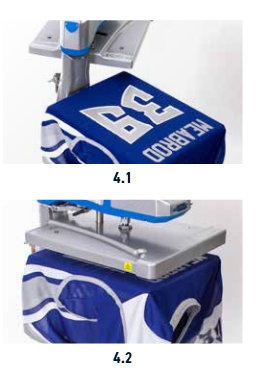 Select preset material application.
Manually enter the temperature and time for the selected material. Adjust pressure accordingly.
When desired settings are reached, you can begin the heat application.
When using the Swing feature (4.1), swing the heat plate outward
and position the garment and design.
Swing the platen back into position and press both print buttons
to lower the platen and heat apply (4.2).
The Home Screen will initiate a countdown and signal when to lift
the platen of the garment.
Swing or pull the heat plate and proceed according to the application instructions.
Download: Operation Manual