HELIX Cylinder Printing Machine & Fast Digital Cylinder Printer
The Helix® ONE is a fast digital cylinder printer, and machine for plastic bottles, stainless tumblers, candle holders, and other cylindrical products. It has the unique ability to print white, CMYK, and varnish in tandem due to the segmented UV lamp.
Specification of Helix ONE Cylinder Printer
Compact Size | Ink Configuration: CMYKWV  | 220 VAC
Print on Straight-walled and tapered Cylinders
Motor-drive Operation and fully automatic programmable tooling fixture
Part Length: 2″ – 12″ (51-305mm) | Part Diameter: 1.77″ – 4.7″ (45-120mm)
Max Image Length: 8.6″ (220mm) | Max Taper Angle: 7 | Resolution: 600 x 1200 dpi
Dimensions (LxWxH) : 48.3″x 32.5″ x 37.4″ (1227x825x950mm)
Weight: 295 kg (including workbench)
Lamp Style: 8W LED | Ink Type: UV LED
HD Video: HELIX ONE Cylinder Printing Machine | SKU: HLX1-UV
TO LEASE OUR MACHINE FOR MORE DETAILS: CLICK HERE
Application
Powder Coated Drinkware
The Helix® ONE's LV Series is perfected and suited to print on powdered coated drinkware.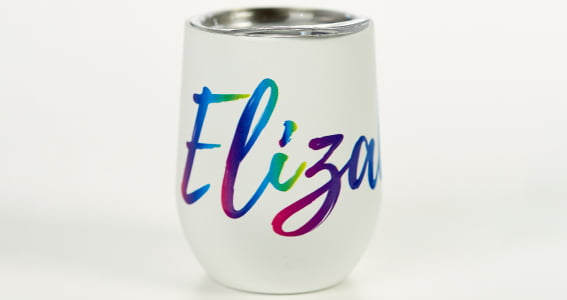 Mixing Glasses
These digitally printed glasses were done on the Helix. The artwork is a full-wrap, 360-degree print completely eliminating any visible seam. If you peek inside the mixing glass, you will notice, instead of white, the same full-color image, this process is called mirror print.

Disposable Cups
Printed disposable cups are suitable for both pad printing and inkjet printing. These disposable cups only take seconds to print and can be stacked instantly.

Plastic Cups
Print full CMYKW + V on a variety of plastic cups including acrylic.

Stemless Wine Glass
The curve of the wine glass would typically prove challenging for most print methods, yet not for this digital printer. The Helix is capable of printing a complete 360 wrap in full color around these excellent drinkware pieces.

Stainless Steel Tumbler
The Helix® ONE offers great adhesion and abrasion resistance to stainless steel tumblers, wine tumblers, and more! It really shines when it can print full-wrap, top-to-bottom prints. The smooth gradient in color along with the steel showing through the design adds a certain "pop" that accentuates the stainless steel undertone.

Coated Metals
Printing on powder-coated metal often poses a challenge for adhesion. Inkcups has a specially formulated primer and ink solution to enhance adhesion. The custom-printed metal bottle shown here was printed with the Helix printer.

Barware
Brand a bar, restaurant, or brewery. The custom-printed barware pictured here was printed using the ICN-2200 2 color pad printer with the CG series pad printing ink for glass and ceramic. The CG series ink offers excellent adhesion and dishwasher resistance.
Barware could also be digitally printed using the helix for full-color, digitally-printed images.